Welcome
As your Liberal nominee to be a candidate for Kings-Hants in the October 2019 federal election, I'd love to speak with you and answer any questions you have. About me. About the nomination process.
My job right now is to give you every opportunity to make the best, most informed choice possible about which Liberal will be on the ballot when Kings-Hants electors go to the polls this fall.
Members of Parliament must strive to act more collectively, to do as much good as we can, for as many as we can, as often as we can. For every riding in our nation.
From my perspective a key goal of this nomination race should be to unite the communities of Kings-Hants. Together we can ensure our riding will be represented as strongly as it has been for many, many years.

Democracy needs us, in the years immediately ahead, now more than ever. We need to engage, we need to participate with all our might. A new kind of transparency is called for from all governments and all parties. There's lots to consider and debate. We are embracing a digital age, going toe-to-toe with other nations about new trade relations, and being forced to quickly and effectively address climate change.
I hope to see you at the Meet and Greet set for May 5, Big 8 Windsor, at 7PM, and at the Nomination Meeting set for May 11, Avonview High School, at 2:30PM. In the meantime, I am at your service. Please call me with your ideas or concerns.
Sincerely,
Pauline Raven 902.670.2949
News
Monday, April 29, 2019 11:21 AM
May 11 Set as Date for Kings-Hants Nomination Meeting
The Federal Liberals have confirmed ('greenlighted') Pauline Raven as one of the Nominees seeking to be the Kings-Hants Liberal Candidate for the 2019 General Election.
The date, time and place for the Nomination Meeting is also set.
Saturday, May 11, 2019
Speeches: 2:00 PM
Voting: 2:30 - 4:00 PM

Avon View High School
225 Payzant Drive
Windsor, NS, B0N 2T0
Registrations are now closed. In order to vote, you had to be registered as a Liberal by April 24, 2019.
Looking forward to seeing many registered Liberals there as we put our collective shoulders to the wheel, choose a candidate and then get to the important task of knocking on doors across our beautiful riding.
---
Wednesday, April 17, 2019 12:00 AM
Province, Ottawa spending $114m to reinforce Bay of Fundy dikes against rising seas...
Here's a great example of how friendly, respectful partnerships between the provincial and federal governments, benefits us all. The April 17, 2019, announcement of $114 Million for dyke infrastructure will fund work in Kings, Hants, Annapolis, Cumberland and Colchester counties, in our neck of the woods there's a particular focus on protecting the Town of Winsor.

The Honourable Bernadette Jordan, Minister of Rural Economic Development, MP for South Shore-St. Margaret's and the Honourable Lloyd Hines, Minister of Transportation and Infrastructure Renewal, MLA for Guysborough-Eastern Shore-Tracadie, did a great job underscoring the importance of doing this job well and doing it now.
You can read more here.
---
Monday, April 8, 2019 7:45 PM
Judging Scratchfest
April 7, Wolfville, Nova Scotia
Pauline Raven described being a judge at Refresh's Scratchfest Sunday afternoon 2-4pm as: "an extraordinary joy!" She has been a sponsor and supporter of Refresh since becoming a municipal councillor and sees it as: "Youth entrepreneurship at its very best."
Scratchfest is a competition but the children are encouraged to help one another throughout the weekend-long programming camp... All the way from Friday night to Sunday afternoon. Pictured is Raven with children who placed first, second or third, as an individual or team.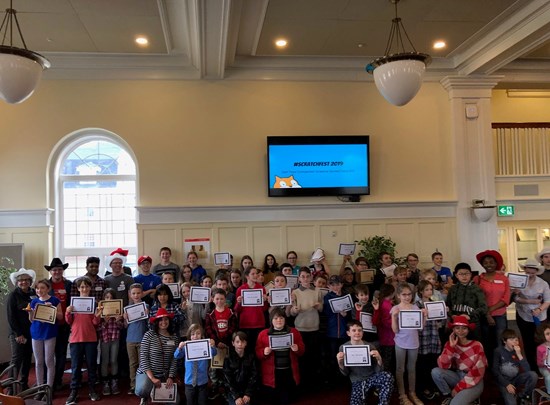 Raven said she met: "a tribe of happy and engaged boys and girls who were obviously having a ton of fun collaborating on projects."
Wolfville's Mike Caplin was the project lead and, with his many helpers, he ensured the weekend rocked!
Kings County is fortunate to have such a stellar event totally organized by volunteers and supported by many sponsors.
According to organizers it was: "Refresh Annapolis Valley's biggest #ScratchFest computer science build-a-thon yet."
It brought children aged 8 to 17 years together... Original digital tech projects were built, in just over 26 hours.
Lots of muscles were flexed. Lots of prizes were won. Creativity bloomed. Friendships were strengthened.
Raven noted: "Eighty-five children competed with girls well represented and winning key prizes."
---
Monday, April 8, 2019 7:25 PM
Women of Excellence Award
April 1, 2019
Councillor Pauline Raven has been nominated for the Community Leader for Betterment Award organized by the Annapolis Valley Chamber of Commerce Women of Excellence Awards.
This award recognizes an exceptional woman dedicated to social change and improving the Annapolis Valley community.
Nominees have garnered extraordinary support from the community by being champions for philanthropy and volunteerism. The judges look for evidence of where, what, when and how they have shown their leadership for community betterment.
The top 5 nominees for various categories will be announced at a meeting on June 14th, where the awards will be presented.
Congratulations for Pauline continue to roll in from far and wide, thanking her for her contributions to the Annapolis Valley.
---
Thursday, March 21, 2019 12:05 PM
SPECIAL HONOUR